A Safari adventure in Namibia through its most beautiful national parks and reserves.
With 95% of the world's population of black rhinos, desert-adapted elephants and cheetahs from the great expanses of Etosha, the country boasts one of the continent's richest fauna and breathtaking desert and lunar landscapes.
Details
Itinerary & Accomodation
What's included
What is not included
Pictures
A journey through the most beautiful wildlife reserves in Namibia
Namibia is this lunar country with hundreds of kilometers of desert, it is also the second least populated country in the world after Mongolia, a promise of a journey far from everything (and everyone). While Namibia is a country with a poor human population, its wildlife is rich with, to name a few, desert elephants, Etosha lions and 95% of the world's population of black rhinos. Travel miles of desert trail through the country's reserves. This itinerary combines nights in luxury safari camps and lodges.
On the program, a 100% Safari Adventure in Namibia through:
- the Erindi reserve and your first safaris, - the Brandberg mountain range and its desert elephants, - Etosha National Park and the world's largest population of black rhinos, - Okonjima and his cheetahs.
DURATION
11 days
ENTER/EXIT
Hosea Kutako International Airport
--- 1 ---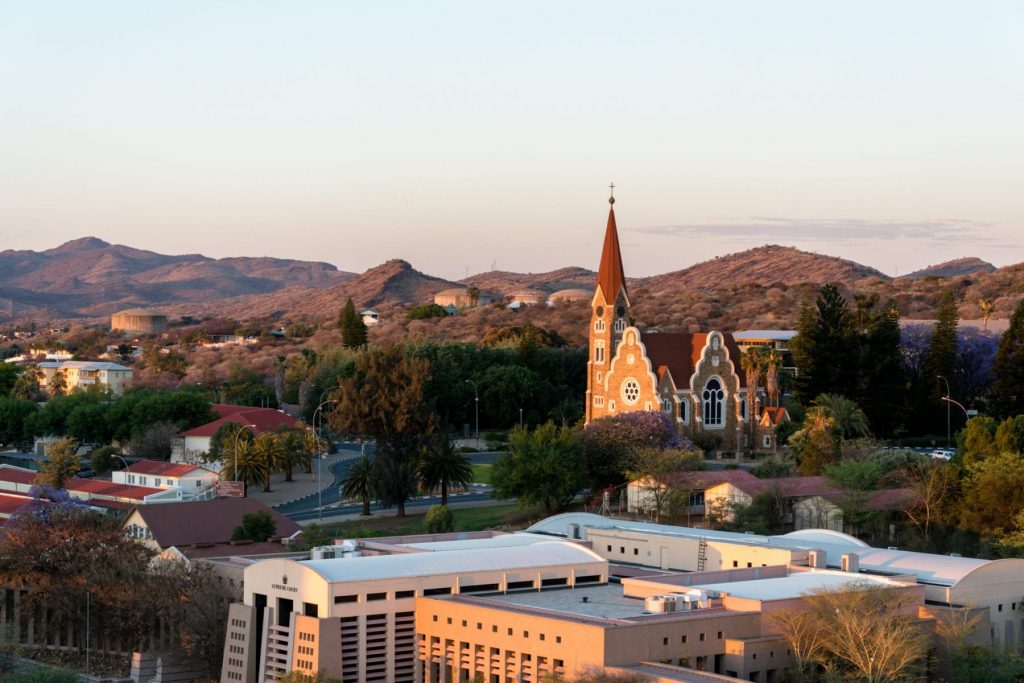 Arrival in Windhoek
Day 1
---
Upon arrival in Windhoek, you will pick up your 4x4. This first stage is a moment of rest, acclimatisation and preparation. Get acquainted with your roadbook and dream about the Atlas Mountains. In the evening, a table is reserved for you... The adventure can begin.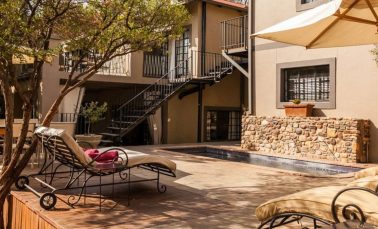 Facing vast expanses
Facing vast expanses, this lodge has a large terrace open to the mountains.
We like: the outdoor swimming pool with a breathtaking view.
--- 2 ---
Erindi Game Reserve
Day 2 to Day 3
---
Drive to Erindi Game Reserve this morning for your first safari stop. Erindi is the promise of a great first approach to Namibian wildlife with cheetahs, rhinos, elephants and many more. Its special feature is its vast savannah plains and sublime sunsets.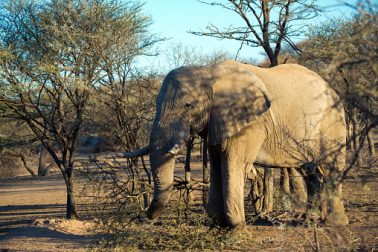 Overnight stay in the reserve
You stay for two nights with full board and 2 game drives per day.
We like: watching the sun set over the wild plains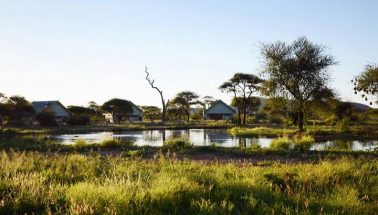 --- 3 ---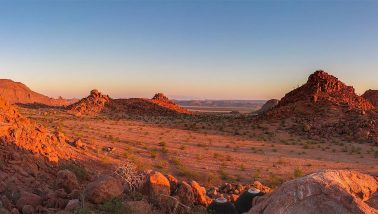 Brandberg
Day 4 to Day 5
---
After your game drive in Erindi, you drive to Damaraland and the Brandberg region. This mountain range in the Erongo region promises vast stretches of desert like a date on the moon. Depending on the season, you and your ranger will be able to see the famous desert elephants.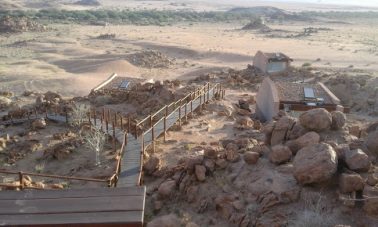 Lodge in the mountains
With natural wonders such as the Brandberg Mountains and the Ugab River as a backdrop, Sorris Sorris provides a truly opulent base for exploring the rugged desert landscape of Damaraland. Guests can indulge in wonderful activities, such as wilderness excursions in search of desert-adapted elephants or hot air ballooning over the rugged landscape.
We like: the beautiful mountainous landscapes
--- 4 ---
Etosha
Day 6 to Day 9
---
The fourth stage of a 4 night stay in the heart of the Etosha Game Reserve. Enter through the western gate and exit to the east to experience Namibia's jewel from top to bottom and every inch of it. Stay overnight in a safari camp and private lodge for a diverse bush experience. Your safaris promise wildlife encounters with oryx, elephant, springbok, lion, leopard, cheetah and many more.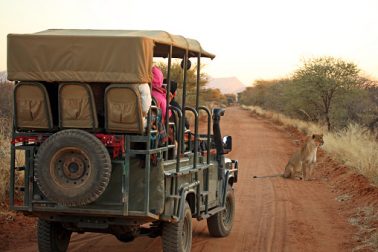 Camping in the heart of the park
A place of rest and calm where you will have a prime spot to observe the black rhinos near the waterhole.
We like: The diversity of wildlife around the camp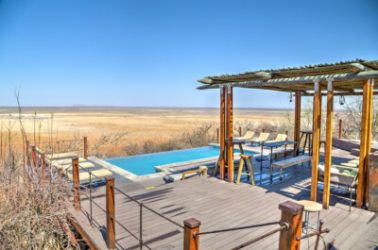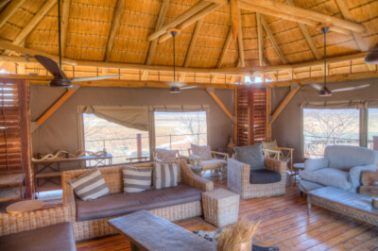 --- 5 ---
Okonjima
Day 10 to Day 11
---
Last stop: Okonjima. For two nights you will have the opportunity to enjoy this sublime private reserve renowned for the preservation of wild animals and particularly cheetahs. You will be able to get close to the cheetahs and visit the Africat Foundation to learn more about animal conservation in Namibia.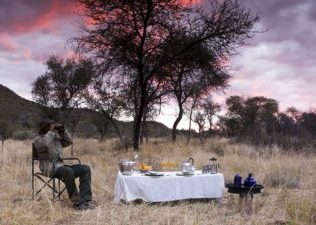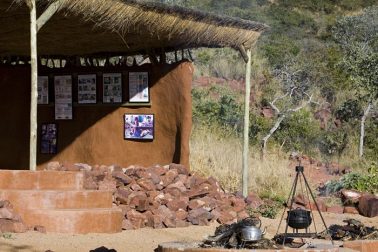 One night in a luxury lodge
Okonjima offers a wide range of accommodation options, from well-appointed private campsites to breathtaking safari lodges. The award-winning Villa and Bush Suite offer an unparalleled luxury safari experience, complete with a private chef, guide and safari vehicle.
We like: watching cheetahs
- Transfer (s) specified in the itinerary - Domestic flight (s) specified in the itinerary - Rental of an equipped 4 × 4 vehicle - Mentioned or similar accommodation - Meal according to daily detail mentioned - Activities specified in this itinerary - Accompaniment of local guides for the specified activities - Organization costs - Road book (or Roadbook) - Local French-speaking assistance 24/7 - VAT
- International flights - Optional activities - Conservation taxes specific to the entrance to the proposed parks - Meal not included in the daily detail - Passport, visa, vaccines and other formalities fees - Assistance and repatriation insurance - Cancellation insurance - Tips