Southern Africa, its deserts, its canyons and its wide open spaces …
Travel stories in Southern Africa by an African at heart …
Who does not dream of wide open spaces, endless deserts, wild canyons? Southern Africa has all the assets of a post-containment treasure! Like all members of SATravellers, from the founders to the rangers, I am deeply attached to Africa in general and more particularly to South Africa where I have lived for almost 20 years.
For once, I want to share with you my experiences and favorites for these vast lands that have become mine!

---
Mozambique – Organized chaos …
---
Southern Africa and first of all, South Africa: upon my arrival in Johannesburg, I felt a huge crush! A few hours were enough for me to understand that this continent was going to make all the African dreams of my childhood come true. I was then only in transit, on my way to Mozambique where the charm immediately operated.
Between South Africa and Mozambique, a neighboring country, there is no similarity, order, languages, culture, South Africans, Mozambicans, the former more reserved, the latter exuberant. Arrived in Mozambique, it only took me 15 minutes to get used to the somewhat chaotic environment; this country, either we love it with unconditional love, or we want to leave immediately, I stayed there for four years!
Mozambique is a heavenly place, its landscapes are worthy of a postcard. With its white sand beaches, turquoise lagoons, tropical temperature, it is the ideal destination for lazing around under the coconut palms, diving in the lagoons, and scuba diving or snorkeling.
Small adventure of which I keep a special memory, a beautiful meeting! I had the chance during a snorkeling trip, to swim very close to a whale shark. It is in no way dangerous, it only feeds on plankton and small fish, but I was a little bit impressed!
---
South Africa – The variety of landscapes
---
Since then, I live in the "Rainbow Nation" at the gates of Kruger Park, in Mpumalanga where nature is superb, rich in diverse landscapes, with 380 degree views. Full of the great outdoors, not far from my home is the third largest canyon in the world, the famous Blyde River Canyon which attracts many visitors from all continents.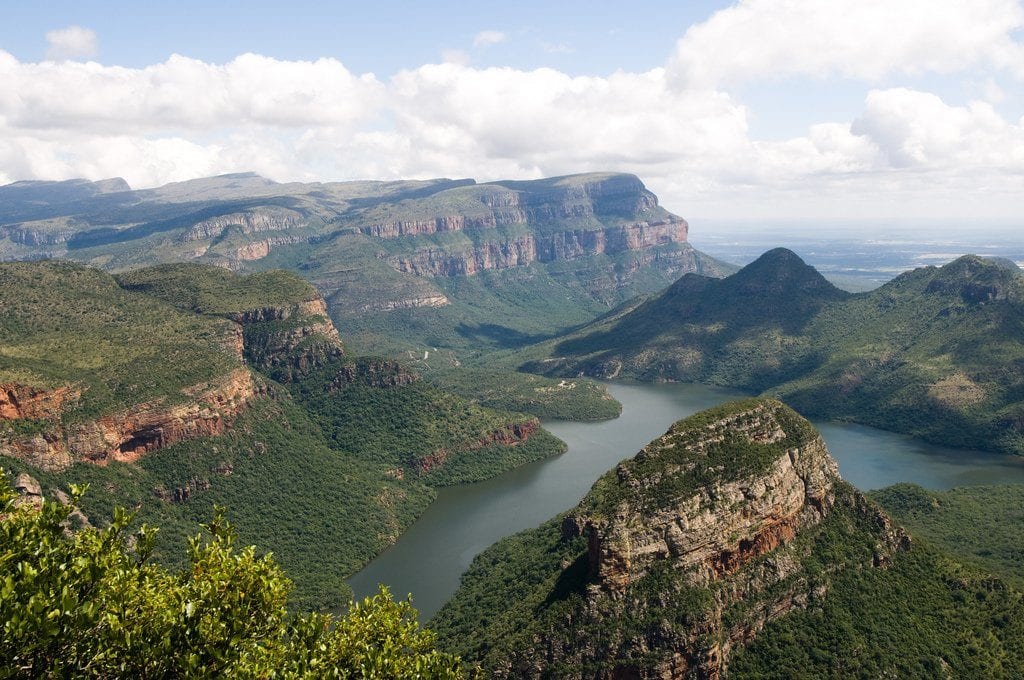 South Africa is my adopted country, its landscapes of a great variety, its animal parks, its wine route, its 3000km of coastline, give me thrills every day of the year. My best memories are undoubtedly the stays at Kruger Park and CapeTown, the city of my heart!
One of my fabulous memories is a trip to Golden Gate National Park. To get to the small rustic wooden cottage, you had to be nervous, the path leading there being particularly steep! At nearly 2000m above sea level, the view over nearby Lesotho and the surrounding mountains is magical. There, I felt alone at the end of the world!
For more than twenty years, I have traveled the countries of Southern Africa, as passionate as each other. From each trip I come back with my eyes full of stars and the desire to return
---
Swaziland – African Switzerland?
---
Very close to home, by spectacular mountain roads I visited the small Kingdom of Eswatini (former Swaziland) on many occasions. The country is endowed with very beautiful parks.
In order to meet the Swazis, I let myself be tempted by a traditional lunch … we stop by the side of the road at a "butcher", we choose our piece of meat, then behind the "butcher" a large fire on the ground awaits you to cook the meat which you then eat accompanied by lipalishi, a kind of white corn flour porridge… verdict: delicious as long as you cook your meat yourself!
---
Namibia – The great outdoors
---
The country that completely enchanted me is undoubtedly Namibia. Namibia, land of contrasts and vast expanses, offers exceptional moments! It is a huge territory with grandiose natural spaces. We discover the largest deserts on the planet.
I loved the Kalahari, located between the basins of the Zambezi and Orange rivers. It is the driest region of the largest expanse of sand in the world. The dunes are an intense red and in the rainy season the savannah is covered with green grasses and the trees bloom. The Kalahari is home to a population of Boshimans, the first inhabitants of Southern Africa.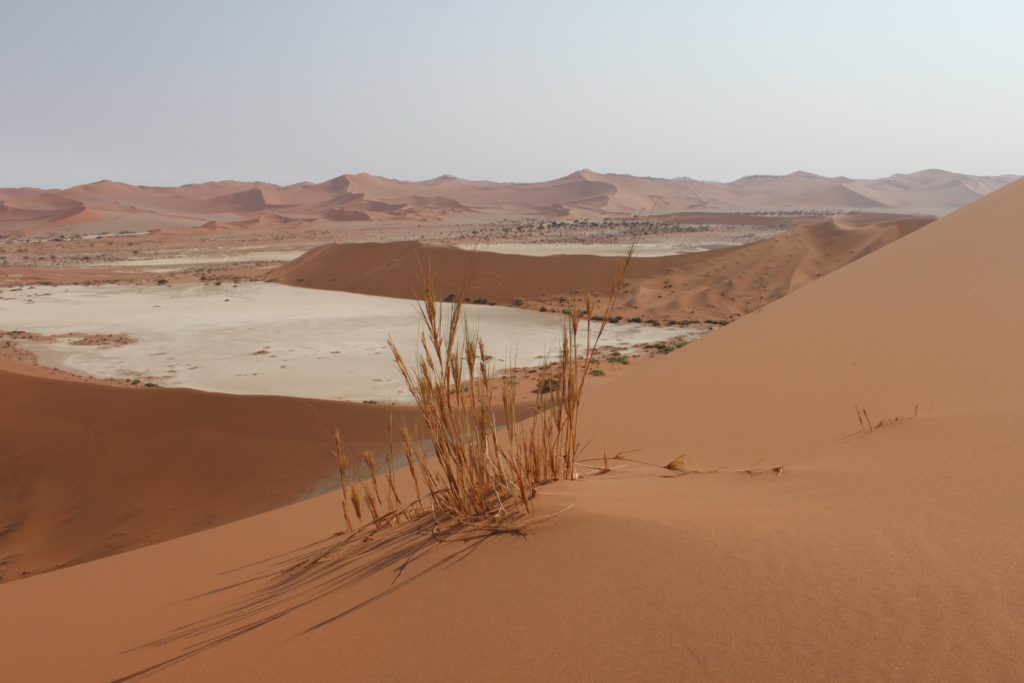 And the great and majestic Namib Desert, the oldest desert in the world, the one to which Namibia owes its name because of the Nama people, it is made of reg, tortured reliefs, canyons and the highest sand dunes on the planet .
Do you remember the American movie "Bagdad Café"? I found myself in a western atmosphere !!! During a stopover at Solitaire, I discovered a sleepy village with a chapel, a gas station, a grocery store, and wrecks of vehicles from another era.
Apart from all these discoveries, I experienced two highlights, when a curious sea lion on a sea excursion jumped into the boat and expressed her crush on me … she put her head on my shoulder and was lying good ! The Captain explained to me that it took 3 months to tame them.
At sunrise, I had the chance to fly over the plains of Namibia in a hot air balloon. After the flight, a champagne breakfast awaited me… a grandiose experience worthy of "Out of Afrika".
---
Botswana – Nature and animals
---
In Botswana I was captivated by the Okavango Delta, a wonderful place where the Okavango River meets the Kalahari Desert. Grandiose, it constitutes an extraordinary landscape with its swamps, lagoons, canals, islands and floodplains. The delta is a paradise for birds, it is home to more than 400 species, a pleasure for the eyes!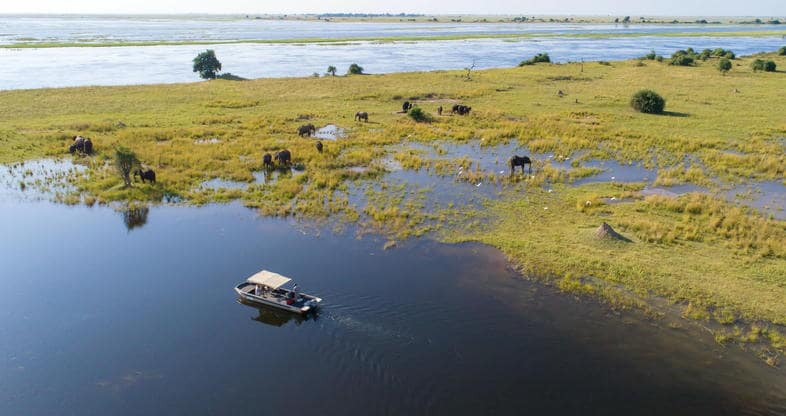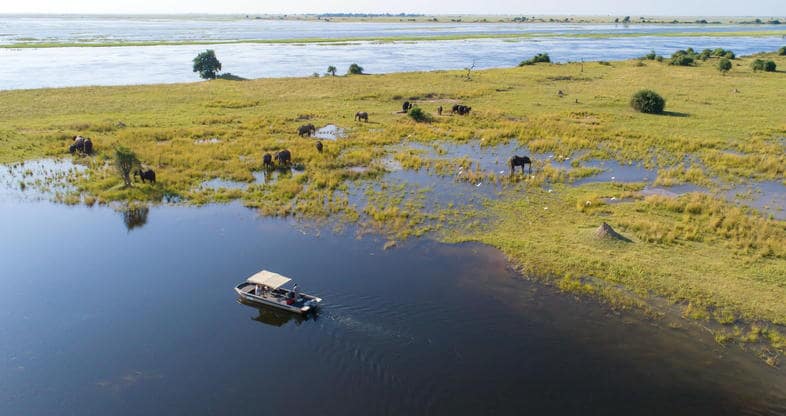 In Botswana, a rather impressive meeting happened to me, a hippopotamus came to pay me a little visit! I was near Gaborone, in a National Park, a vertebra in the bottom of the column had forced me to remain seated on the terrace with as companion a little monkey who shamelessly stole my fruit. At nightfall, the hippos came out of the lake and approached… luckily a ranger was passing by!
The majestic and tumultuous Victoria Falls, I discovered them during a visit to Zimbabwe.
My stay was grandiose, housed in the mythical hotel, the very British Victoria Falls Hotel with a breathtaking landscape, the gorges, the bridge that spans them and the Zimbabwe flag floating on the azure blue of the sky.
A private trail through lush greenery populated by mongooses and baboons leads to one of seven natural wonders, Victoria Falls.
---
And many other little corners of paradise …
---
Other countries in southern Africa, although smaller, even tiny, give the sensation of endless spaces, be it Malawi, Tanzania and Zanzibar, Mauritius, Madagascar and Réunion.
I hope I made you dream, who knows one day you will go and see these splendid countries of Southern Africa more closely!
SATravellers and his team are thinking of you; take advantage of this period of confinement to carefully prepare for your next trip.
See you soon,
Irina.
Africally, the SATravellers team